Boosting school visitation sign-ups with a texting-themed campaign
Background
On a designated day every March, each of the 17 Archdiocesan high schools shuts down normal operations and invites seventh graders from nearby elementary and middle schools to spend the day on their campuses. Dubbed "Seventh Grade Visitation Day," the event is a unique experience to provide middle schoolers with a sense of what it's like to attend an AOPS high school. Seventh graders are given an individually-tailored roster to attend classes, enjoy lunch in the cafeteria, and meet students from other schools. The day ends with a pep rally-style session featuring fun games and cheers, leaving seventh graders inspired and excited about their upcoming high school experience.
The challenge
In 2019, the Archdiocese of Philadelphia Schools wanted to increase registration and attendance of the Seventh Grade Visitation Day events among seventh grade students from local public and private schools, specifically.
While Archdiocesan elementary school seventh graders are typically aware of the Visitation Day events, awareness among local non-Archdiocesan elementary/middle school students required specific targeting and outreach.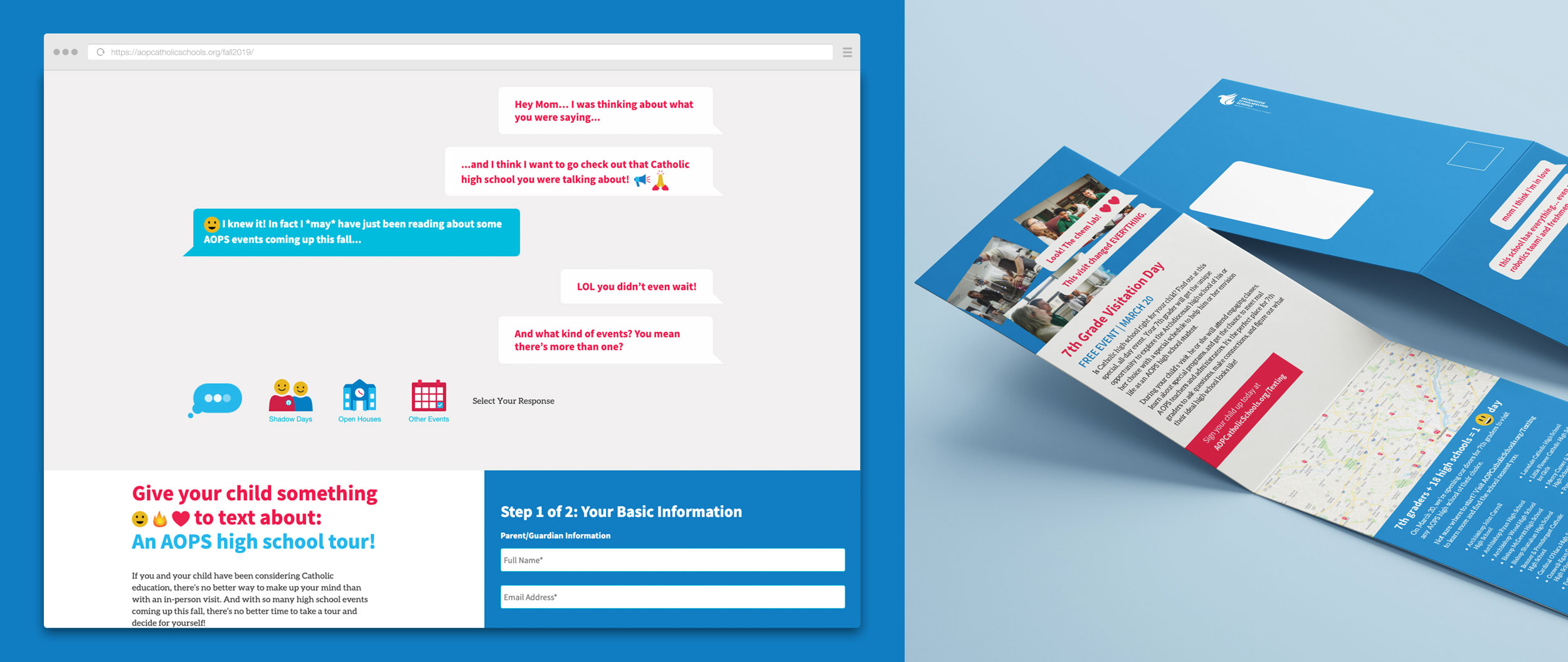 Our solution
Building on the success of previous efforts, FVM laid out a strategic plan to reach public and private school parents of seventh graders in the five-county area, removing existing Archdiocesan elementary families as targets wherever possible.
Starting with a registration landing page, the team aligned targeted email list rentals, hyper-targeted digital display banner ads, Facebook/Instagram advertising, a direct mail postcard, and a social ambassador program for current parents.
This multichannel campaign was built on a creative and engaging "texting" concept applied across all tactics. The idea: depict a seventh grader having such a fun time at a Seventh Grade Visitation Day event that he or she is texting their parent in real time, passionately making an argument for why they should enroll at their AOPS high school. The creative aimed to capture that enthusiastic text message conversation, and with it the spirit of what makes AOPS high schools so special.
The registration landing page featured an animated text conversation between the student and their parent, along with an interactive form that allowed prospects to learn about the event in a self-directed text conversation format.
Throughout the different tactical formats, which included video ads, animated display ads, HTML email, and print, the campaign concepts hit on important topics such as the arts, sciences, and more generally what AOPS high schools have to offer. The ultimate message — whatever your child is passionate about, there's something here for them at AOPS schools.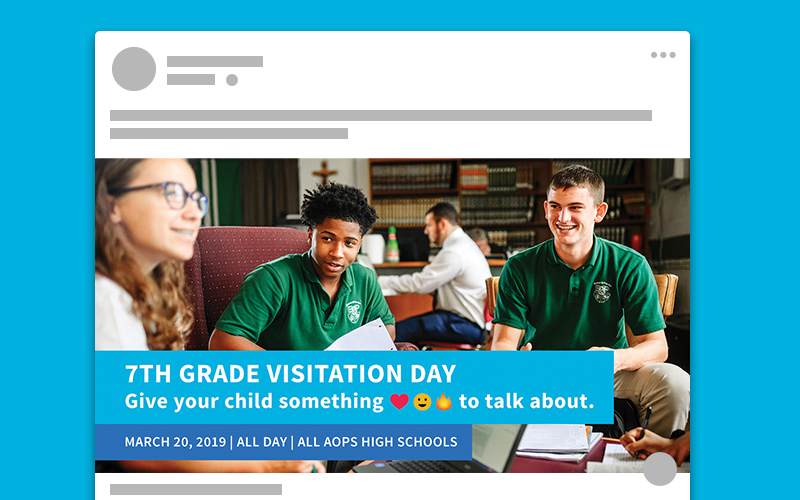 Results
The campaign, running from early January through mid-March, saw approximately 3.3 million impressions and drove almost 8,000 visits to the Seventh Grade Visitation Day registration landing page. 93% of visitors were new to the AOPS website.
The landing page's average time on page of 2:20, almost one minute higher than the site-wide time on page, demonstrates that viewers found the information engaging, relevant, and useful.
The campaign resulted in a total of 556 form submissions, of which about 17.4% represented students new to AOPS.
Ready to get started?
Contact us to discuss how FVM can support your B2B marketing goals.