Creating a more competitive investment advising brand
Background
While investment advising firm Argosy Capital was growing rapidly, the company's brand and web presence didn't reflect its success. Facing increasing competition in the lower middle market – a critical segment of its business – the Argosy team wanted to update its image and expand its reach beyond word-of-mouth referrals. It was time for a newer, more competitive Argosy, starting with a refreshed brand and website.
The challenge
Argosy's business consists of four segments – private equity, real estate partners, credit partners, and strategic partners. While some of the segments operate autonomously, others work closely and share resources. For the rebrand, each unit required representation on the website, but with varying levels of interconnectivity with other segments. FVM got to work to build a brand framework and website that best served Argosy's complex structure.

Our solution
The FVM team performed internal and external research to uncover Argosy's unique personality and competitive differentiators for each segment. Those findings informed an updated compass logo and a contemporary-yet-classic visual identity featuring shades of navy blue and white. Combining striking brand messaging, engaging animations, and fresh photos of the Argosy team, we captured the company's spirit across new website business materials – including business cards, presentation templates, email signatures, and letterheads.
Behind the scenes, we created a site backend enabling specific segments to operate on a separate domain from the main site, while still remaining connected at the top level. This way, each unit's team and capabilities could be highlighted on the main site, unified by the overarching Argosy brand. All these elements came together with an intuitive interface for a dramatically improved user experience. A live look at the new site: https://argosycapital.com/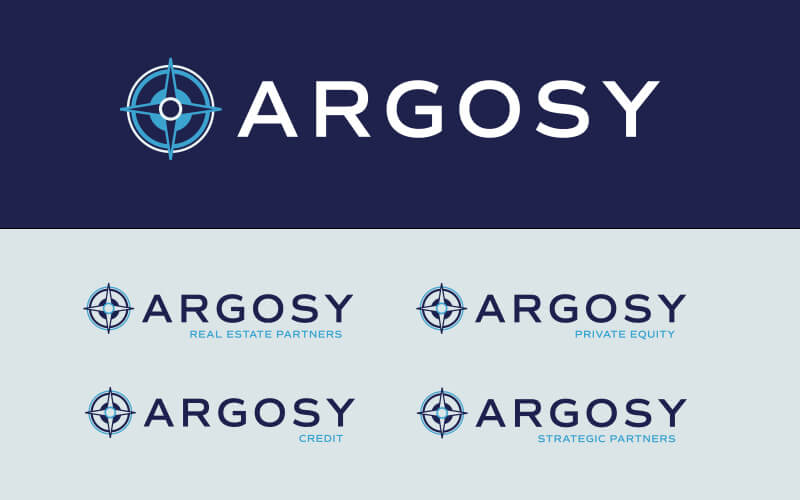 Results
In its first six months, the site saw just under 100,000 pageviews from 23,000 visitors – 86% of them new to Argosy. Our team put Google Analytics in place at the site's launch, enabling the Argosy team to track traffic trends for the first time. We further equipped them with our CMS training and leave-behind guide, providing the resources to manage the custom-built backends on an ongoing basis. With a cleaner, more competitive identity, message, and architecture, Argosy is poised to continue its journey forward.
Ready to get started?
Contact us to discuss how FVM can support your B2B marketing goals.