Landing on a mission, a vision, and values for a forward-looking new company
Background
In early 2020, leaders from what had been Univar Solutions ES worked with FVM to emerge as a new, independent company: Veseris. Successfully hitting tight deadlines, the specialty chemical distributor relaunched with powerful customer-facing messaging and visuals. They left a legacy with a multi-billion dollar global company behind… meaning it was up to Veseris to define its own culture and values moving forward.
The challenge
Under Univar Solutions, our client had inherited messaging around corporate values and long-term vision. Now, it was up to Veseris —and FVM— to solidify the founding culture of the company into core ideas that would be meaningful for customers, suppliers, and employees alike. We were tasked with eliminating messaging redundancy while making a clear case for the "edge" Veseris could offer over all its competitors.
Our solution
FVM's creative and strategic leads collaborated with 10 leaders at Veseris to amass input, start the discussion, and share ideas. One part workshopping and one part copywriting, the process was fluid — but stayed focused on our goals. By the end, we had created not only a strongly-written manifesto for the mission, vision, and values of Veseris, but also unique visuals to bring them to life — plus a "Veseris Edge" summary of the company's differentiators.
Results
Mission, vision, and value statements that fit into and expanded the Veseris brand guidelines
A "Veseris Edge" messaging framework that strongly but succinctly summarized what Veseris offers — and why it's different
Iconographic representations for each, built from and around visuals at the core of the newly formed visual identity
An internal rallying video unveiling the new mission, vision, and values
Externally-facing web content for the new Veseris.com to reinforce these values for suppliers and customers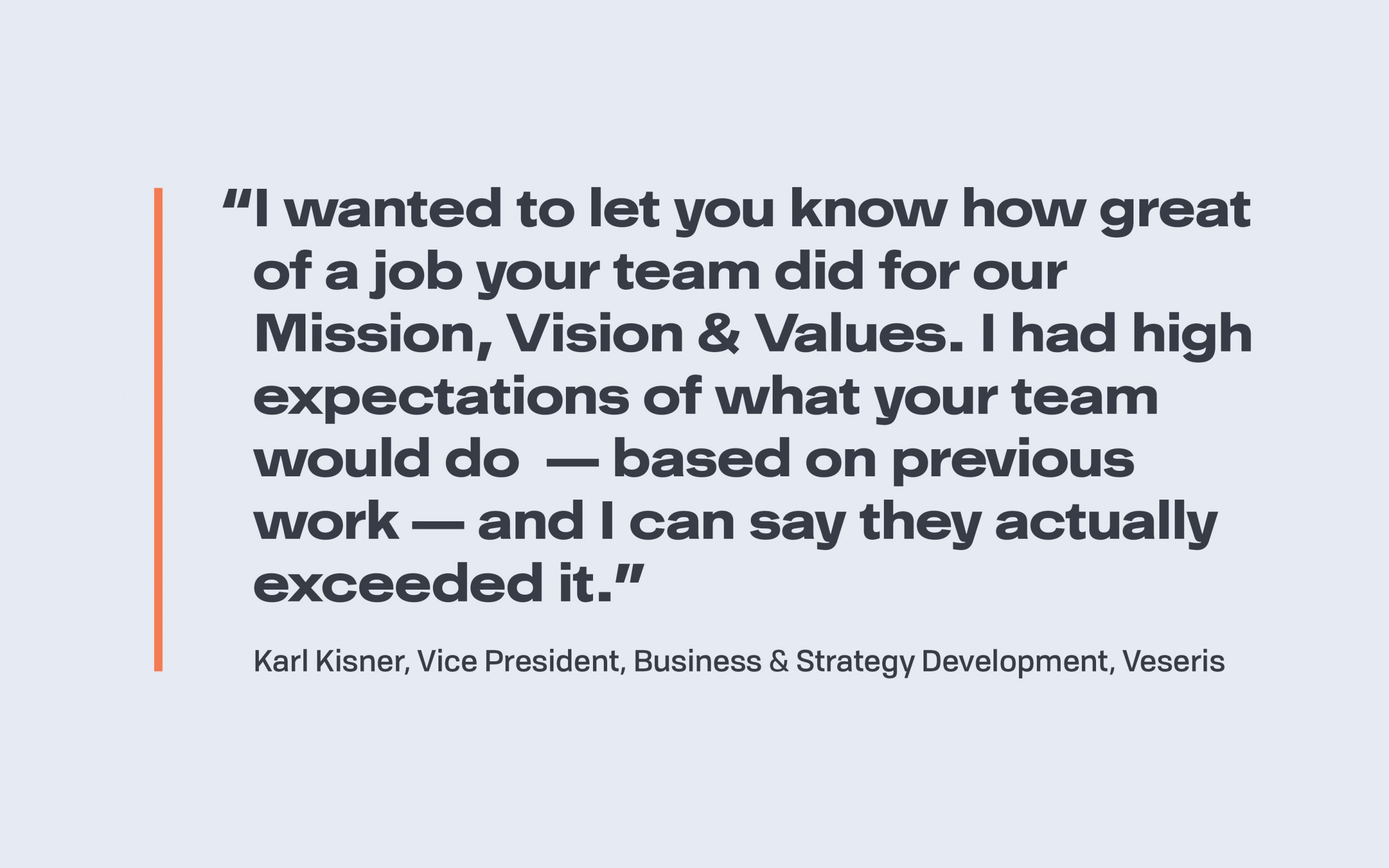 Ready to get started?
Contact us to discuss how FVM can support your B2B marketing goals.