Launching a novel R&D company in a sea of overpromising tech brands
Background
Pharma software startup Pepper Bio — formerly Celata Bioinnovations — had just renamed and was in the midst of building a preliminary sales deck when they approached FVM with a branding project. The company was breaking ground in "transomic" support for pharmaceutical research and discovery, leveraging a new layer of phosphoproteomic data to steer researchers towards viable drug applications.
The challenge
Pepper needed to articulate their company's unique value prop for a mix of investors and biopharma prospects — all while standing out as proven doers in a field saturated with empty visionary brands. Its new messaging and graphic identity had to convey complex subject matter in a quickly compelling way, raising the company's stature while capturing their bold style.
To up the challenge, everything had to move quickly to credential the young company before upcoming investor opportunities. This required the production of a placeholder visual identity that would stand up Pepper in as little time as possible, while also informing client and agency alike about potential gaps to address in the final brand.
Our solution
In light of our timelines, FVM handled discovery with agility, interviewing the founders, stakeholders, and customers while surveying competitors to identify key threads and major market holes. Their new brand would challenge industry norms, exude confidence, and be heavily steeped in the science — without getting mired in details too high in the funnel.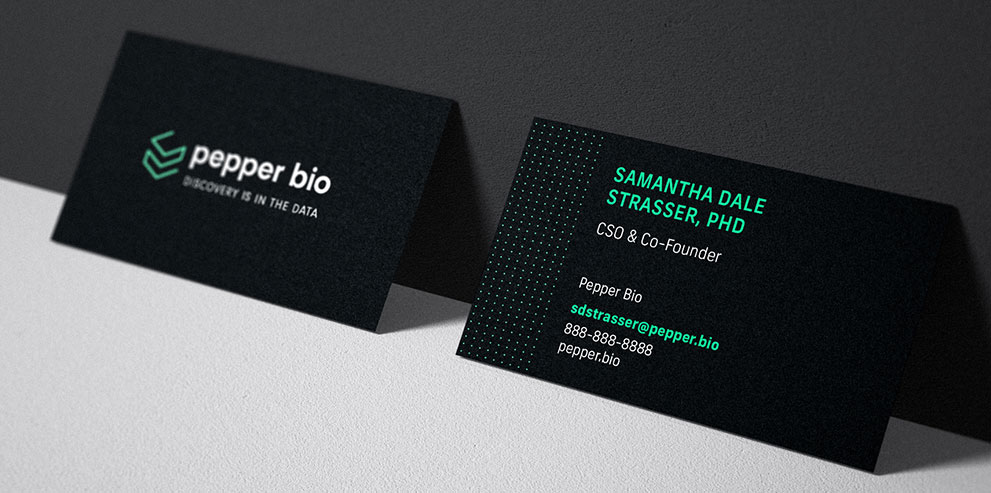 At a tonal and graphic identity session with Pepper, we evaluated their taste for change and evolution, striking safe "pharma blue" from the palette and building around themes like smarter drug discovery, new layers of information, and a new era of research. The resulting brand featured high-contrast colors, powerful supporting graphical elements, and a tagline that put Pepper's accomplishments first.
Results
The Pepper Bio brand launch drew a line in the sand, separating traditional R&D from the inevitable transomics future as "the era of guessing is over." Messaging squarely positioned Pepper as a change agent with significant scientific accomplishments under its belt by illuminating published work and in-progress trials.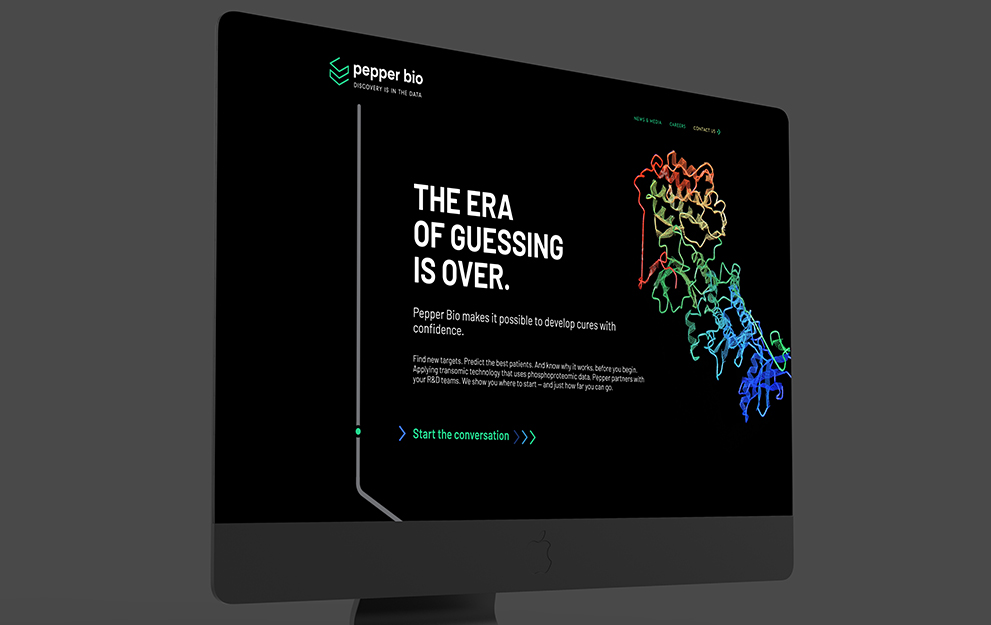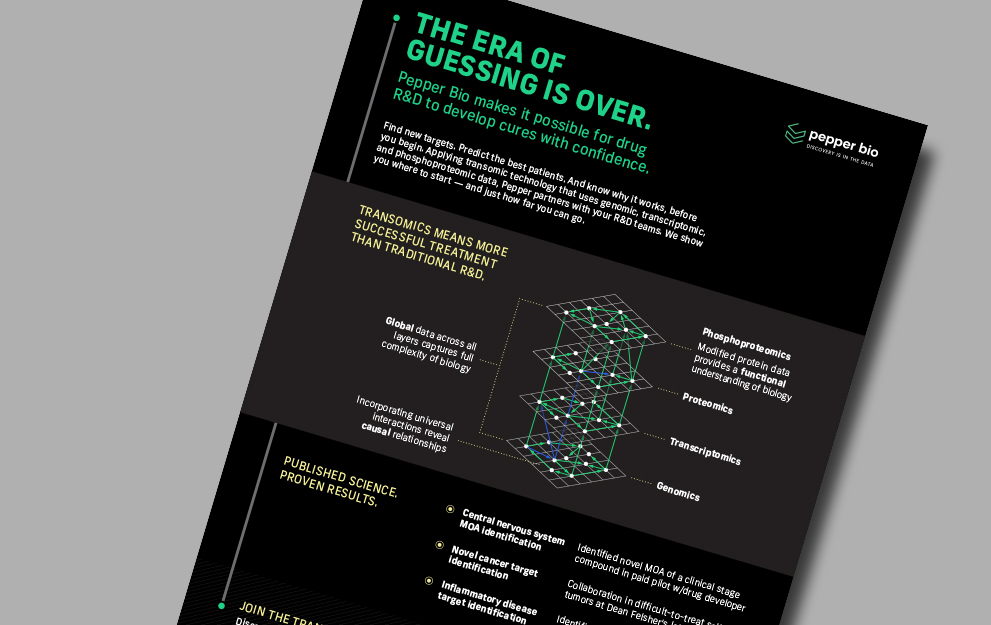 Similarly, the final visual identity is vibrant and bold, mixing real protein imagery with representative iconography and action-inspiring colors to move prospects one step closer to a kickoff call with Pepper's visionary founders.
• New brand positioning, tagline, and elevator pitch
• Future-minded logo, wordmark, and color palette
• Custom iconography and visual design elements
• Quick-launch company microsite
• Refreshed pitch deck and investor presentation deck
• Full suite of branded business materials
Ready to get started?
Contact us to discuss how FVM can support your B2B marketing goals.