Making a commodity industrial product totally unique
Background
Since 1892 Philadelphia Gear has been a powerhouse manufacturer of high-performance gear drives. A hundred years and change later, they turned to FVM to help their products stand out in a marketplace overcrowded with technical features and specs. We broke convention with a campaign that called their products "boring" as an anti-euphemism for reliability.
When it comes to gear drives, the last thing customers want is excitement or uncertainty. Mechanical downtime can cost them millions. So we celebrated the constant reliability of Philadelphia Gear's newest products and positioned them in terms of this important customer benefit.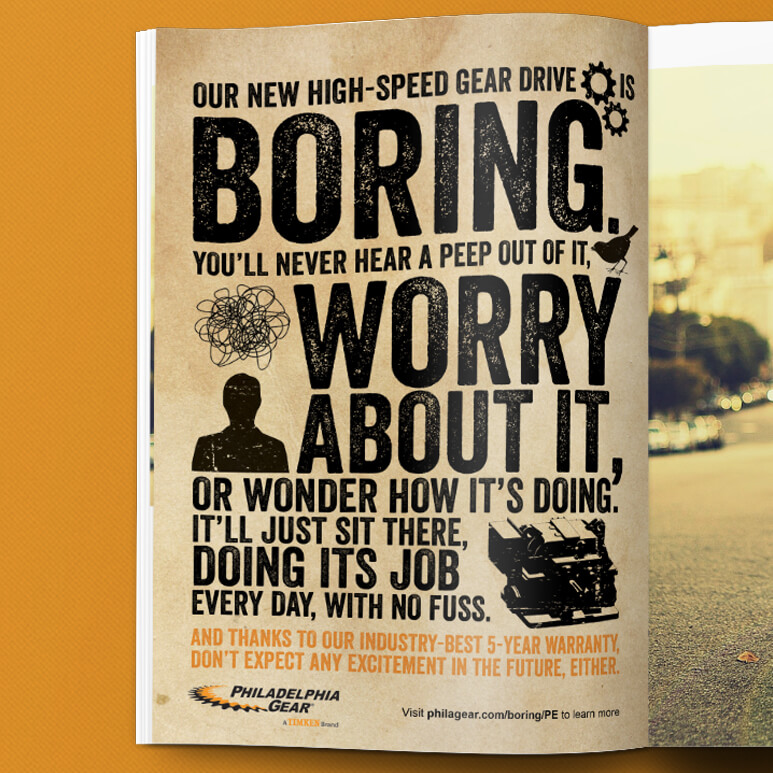 Our solution
Bold, eye-catching print and digital advertisements that broke through the bland. Our targeted media campaign led people to a landing page where they watched an FVM-produced motion graphics video about the "boring" features and benefits of Philadelphia Gear's products. This site generated highly qualified leads for Philadelphia Gear and raised awareness of their impressive predictability across the industry.
Ready to get started?
Contact us to discuss how FVM can support your B2B marketing goals.