Merging and energizing two powerhouse nonprofits: Here's how Heights was born.
Background
Philadelphia Futures and Steppingstone Scholars — two prominent nonprofits serving Philadelphia youth — agreed to a merger in May 2022. Together, they would have an operating budget exceeding $12 million, over 70 staff members, and a three-year goal of serving 5,000 students.
Each organization brought enormous credentials to the table in the form of history, impact, and momentum. Combined, they sought to help every student in Philadelphia graduate high school and achieve economic mobility — realizing student potential and powering the city's future.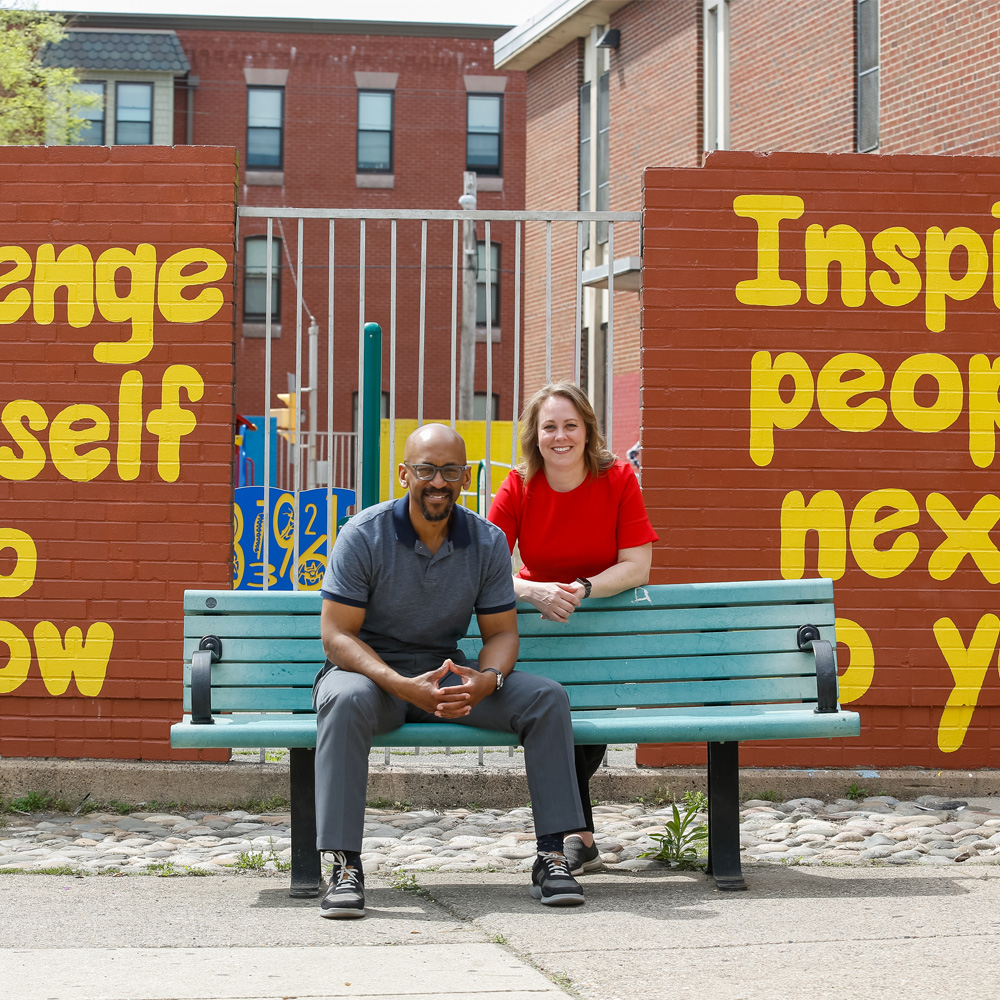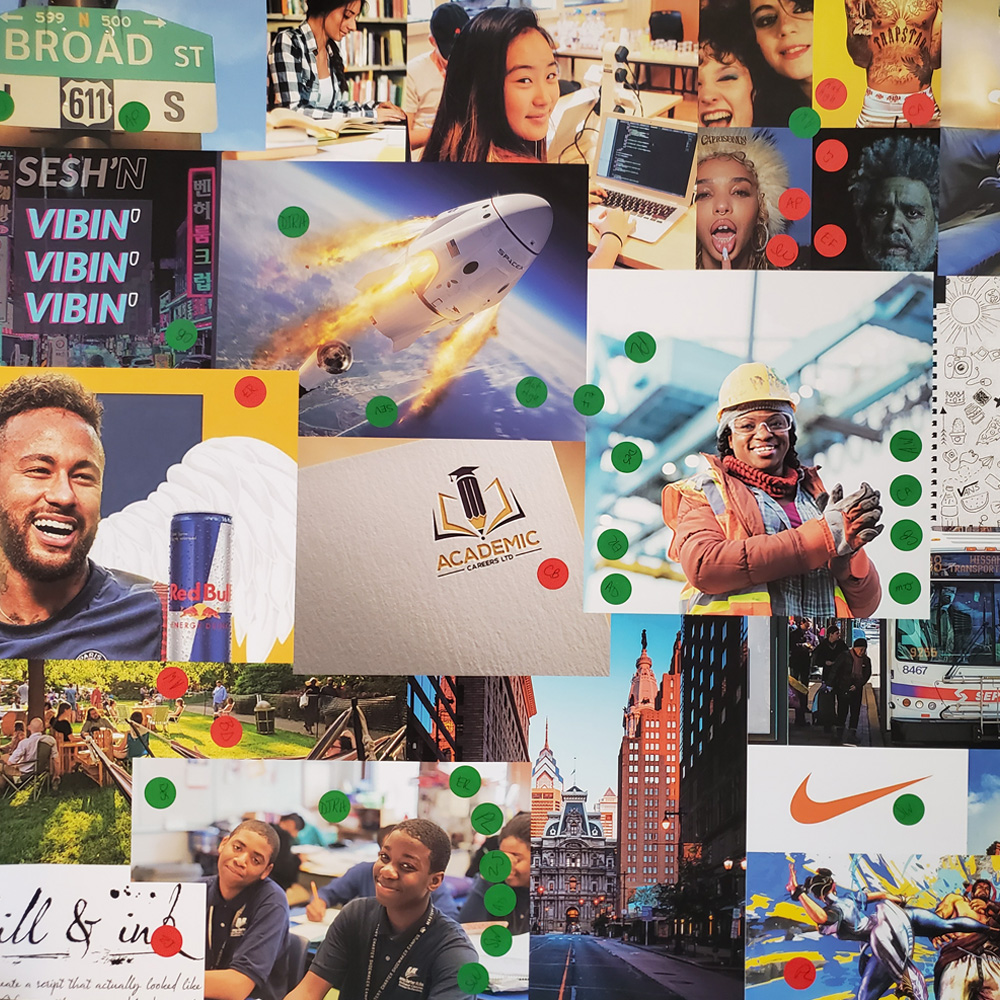 The challenge
The new combined organization needed full branding to represent its focused, high-energy vision for Philadelphia students: a new name, new narrative, and a complete visual identity — meaningfully conveyed for audiences that included students, families, school administrators, donors, corporate and university partners, employees, and volunteers. FVM was tasked with accurately and compassionately representing Heights students, while combining the merged identities of two well-known brands.
FVM also needed to drive the launch of this new brand with exciting, comprehensive tactics: website planning and execution, announcement event support, internal communications, apparel, and more. Hitting the ground not just running, but sprinting, would be instrumental in giving this organization the momentum it needed to capture attention and generate excitement.
Our solution
Building a brand as important as this one meant eliciting feedback and buy-in from one of the widest arrays of stakeholders and decision-makers we've ever collected. FVM conducted leadership interviews, student and alumni focus groups, surveys, and a massive branding strategy session that spanned both organizations — as well as a deep-dive into the "competitive" nonprofit educational space.
What we learned? Students had to be the center of the new brand, even if they weren't always the primary audience. Genuine energy and excitement needed to pour out of every pixel and every word we created. The new brand needed to be something families, partners, and donors could believe in — and something students would proudly cheer about. And we needed to capture that spirit without glossing over the realities of black, brown, and first-generation-to-college students in Philadelphia.
After multiple initial messaging concepts, an extensive naming process that included custom domain acquisition, several visual approaches and multiple rounds of finessing, we landed on Heights Philadelphia: a brand that represents not only the identity and achievement of its students, but also the network of people who believe in those students' futures.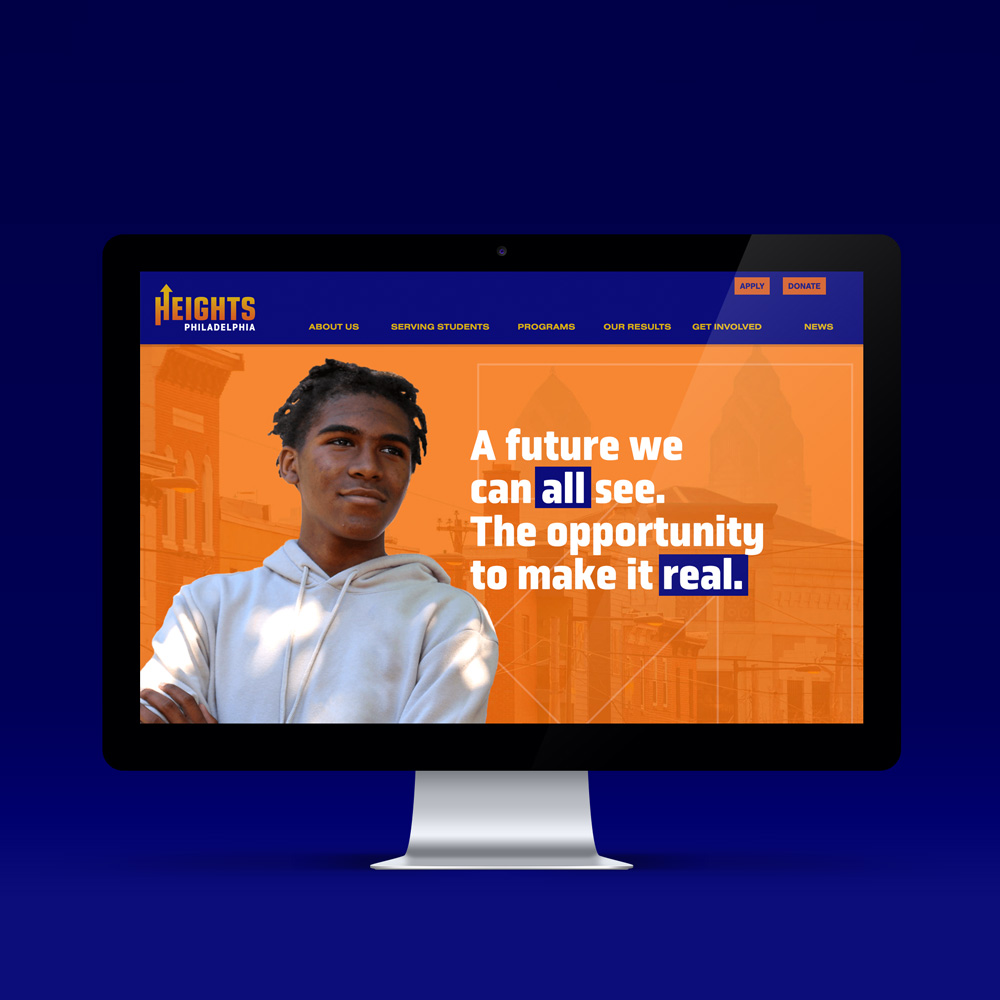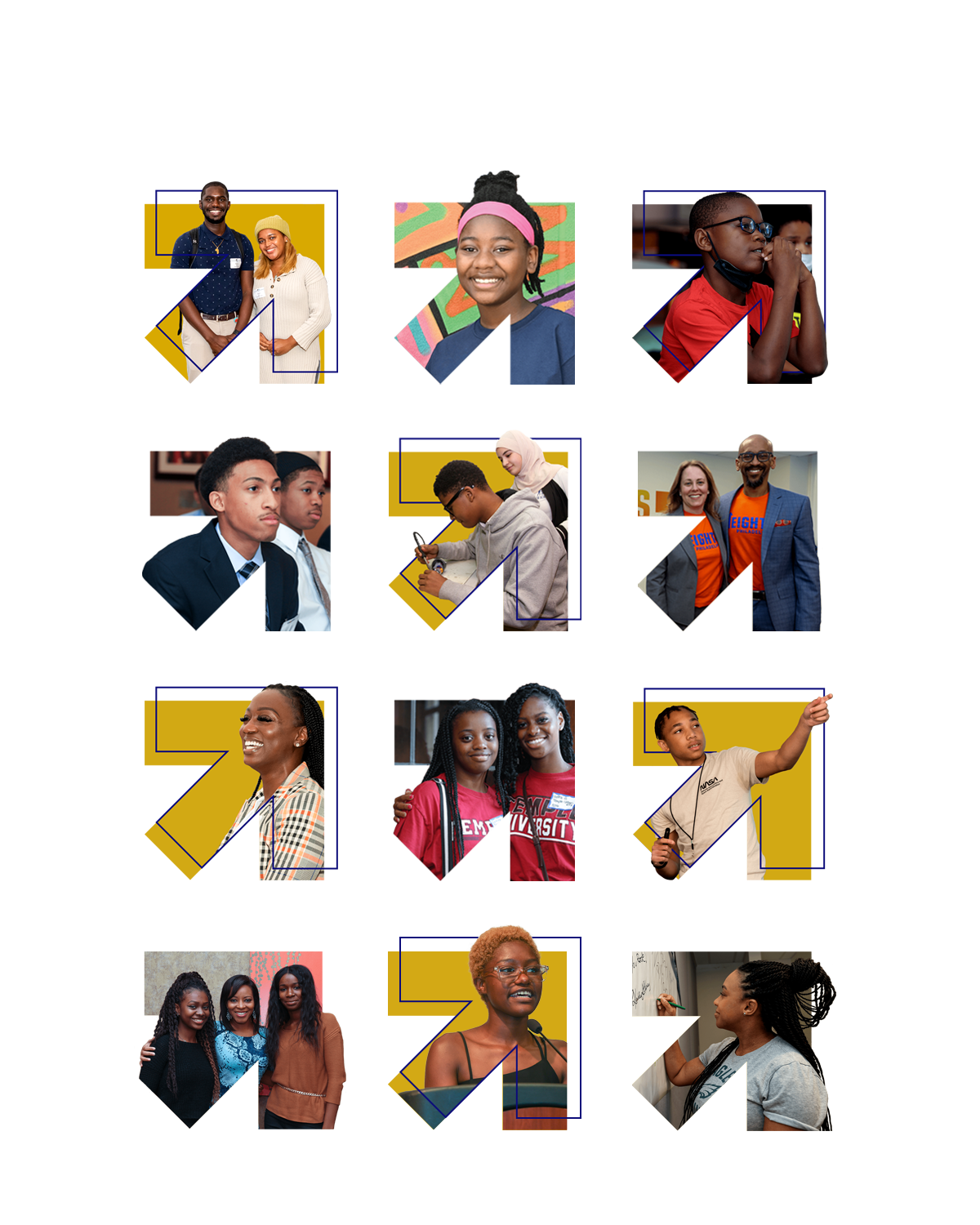 The Heights brand rollout ultimately included all of the following:
Discovery Findings presentation and deck that summarized the key learnings and takeaways from extensive research and branding exercises
New organizational name & logo, Heights Philadelphia, including custom monogram iconography and application into apparel
Brand positioning and narrative that captured the Heights organizational vision and commanded audience attention
Full graphic identity, visual elements, and photography treatment to showcase student pathways, collaboration, and achievements

Arrow used as both a photo container, pattern, and device to show forward and upwards progression

Suite of business and marketing materials, such as PPT templates, business cards, letterhead, and notecards
Event swag for students, alumni, and other community members
New WordPress website, Heights.org, to introduce the organization to new audiences, credential their work, and easily navigate existing audiences to content they're most interested in using a simplified site navigation and clear CTAs

This involved extensive work on the front end to merge and streamline both organizations' existing content and programs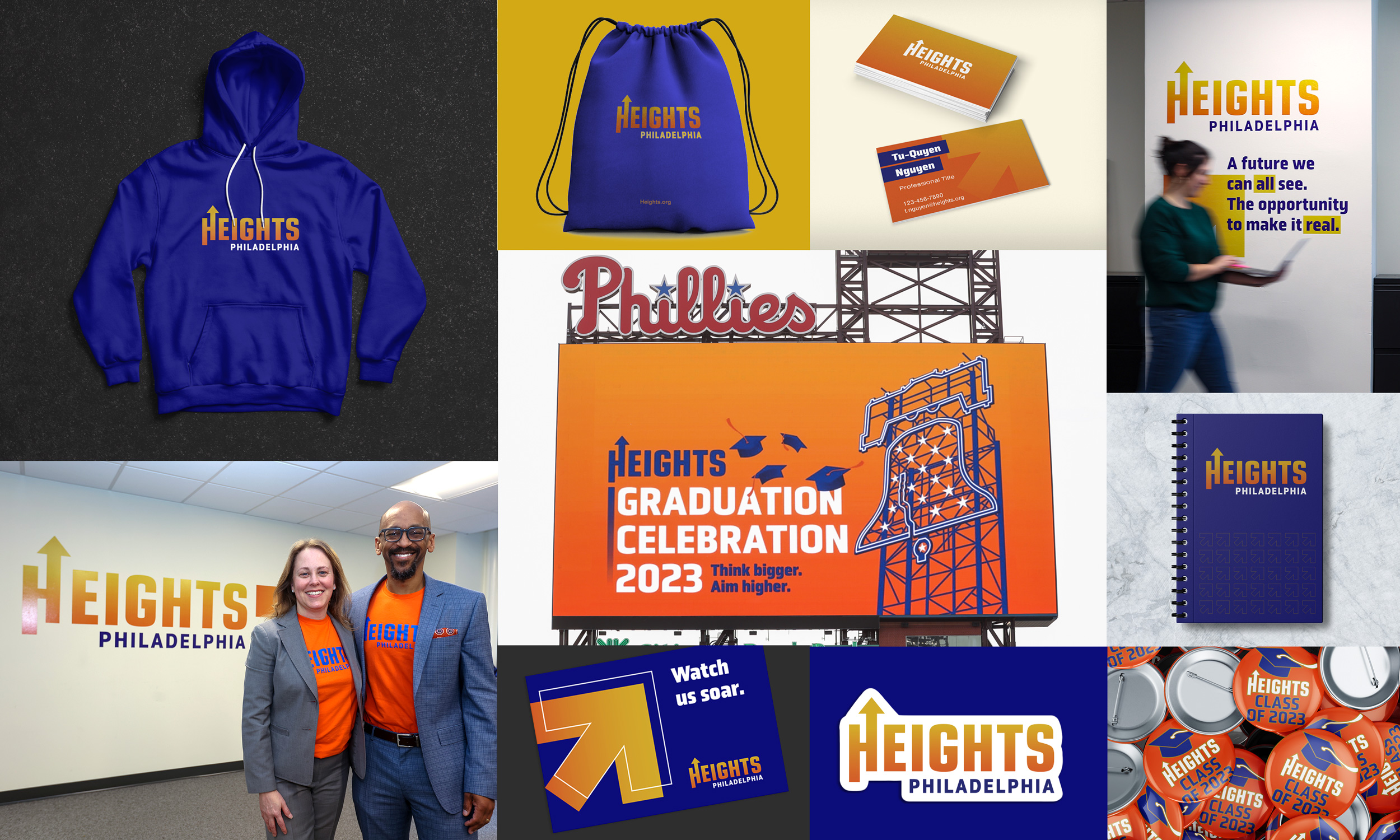 Results
Heights Philadelphia officially launched their new name and brand in December 2022 with a high-energy pep rally at George Washington High School. The event was headlined by guest Jason Kelce of the Philadelphia Eagles to help bring light to the new brand and organization's work — and met with excitement from students, faculty, and partners alike.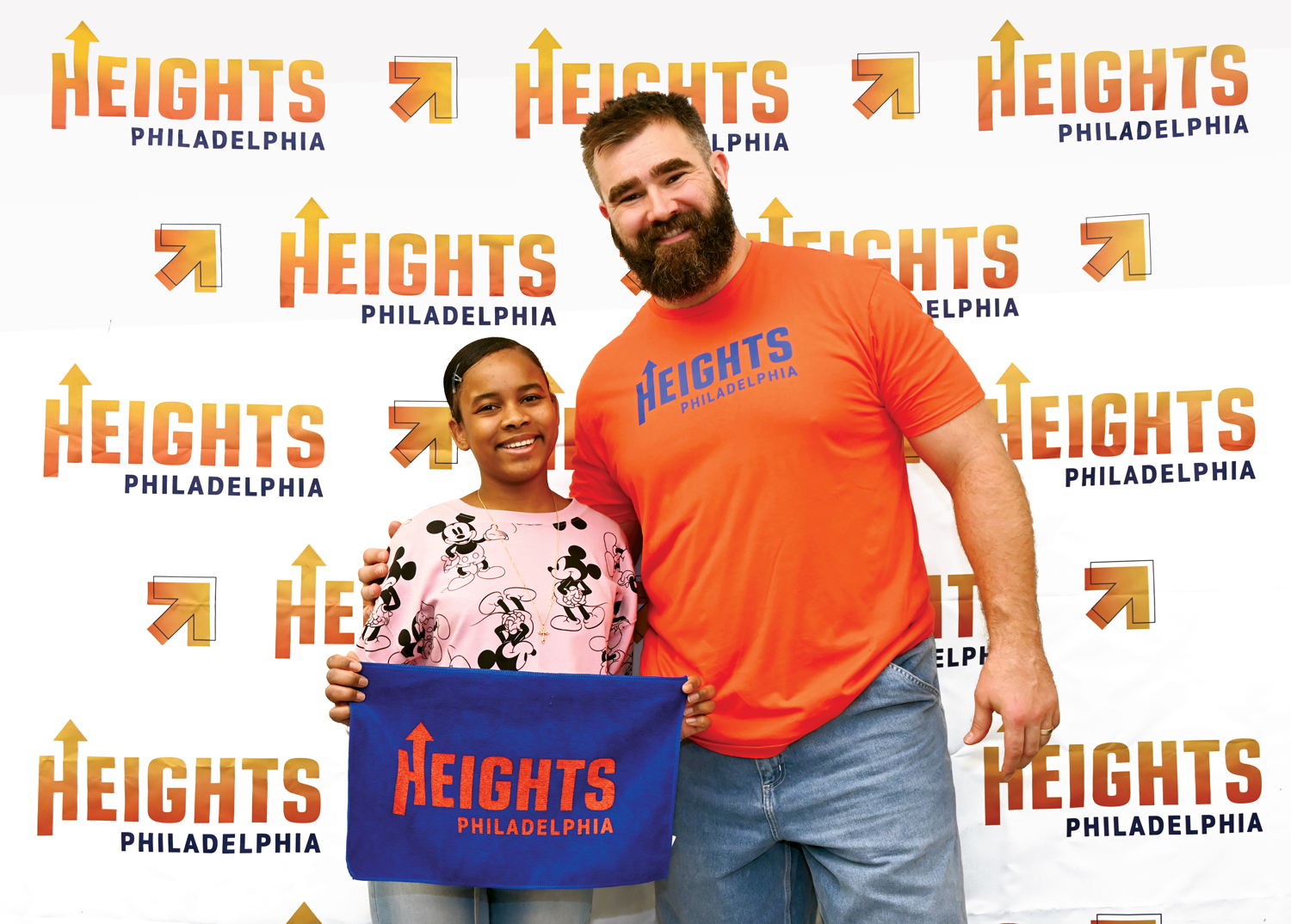 Ready to get started?
Send us a message to see how FVM can help solve your B2B marketing challenges.