Proving industry leadership with a candid testimonial campaign
Background
The competition has never been fiercer in the pest control industry. Thanks to constant mergers and acquisitions, more businesses are obligated to purchase from their parent company's approved distributors. To keep pace, Veseris — an industry leader in North American structural pest control distribution — was looking for ways to increase loyalty and spend among its existing customers.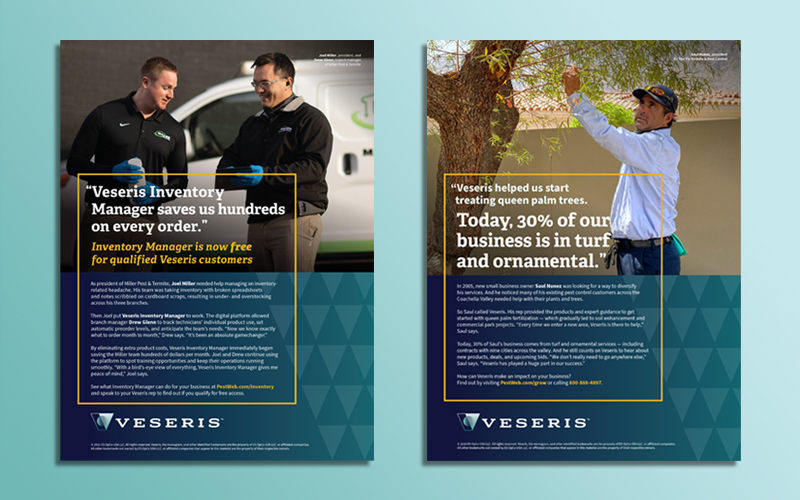 The challenge
Veseris tasked FVM with creating a more assertive campaign emphasizing its position as a leader. The concept needed to be bold and backed by tangible evidence — no fluff, just facts that competitors couldn't claim for themselves. In particular, Veseris wanted to highlight how its employees' deep knowledge and expertise provided a unique advantage for customers looking to grow their businesses.
Our solution
We let the results speak for themselves. Working with Veseris sales reps, our team identified and connected with large and small businesses with striking success stories. We then conducted nationwide phone interviews, coordinated shoots with local photographers, and built a campaign showcasing how Veseris experts provide untouchable service to customers.
The campaign included print and digital ads in leading industry publication PCT, as well as Veseris-owned tactics. Each drove viewers to our campaign landing page, where they could see more stories — plus Veseris products and services. We further promoted the campaign via emails, blog posts, banners ads, and social posts. And as a thank you, we sent framed versions of the print ads for Veseris reps to hand-deliver to highlighted customers.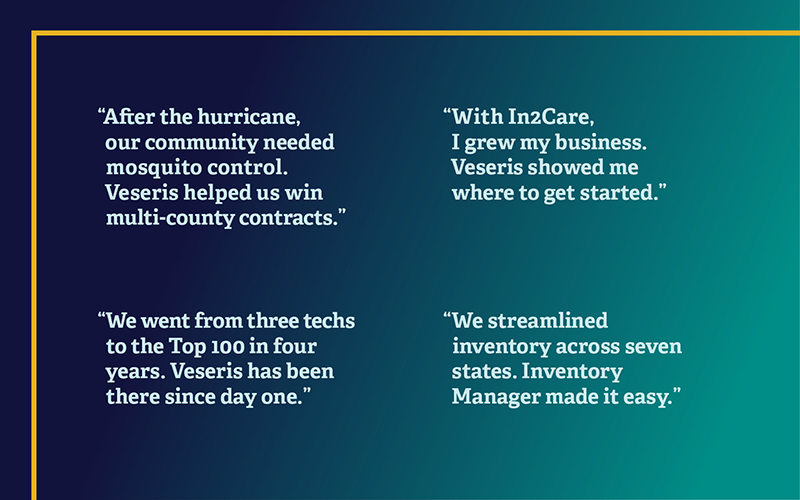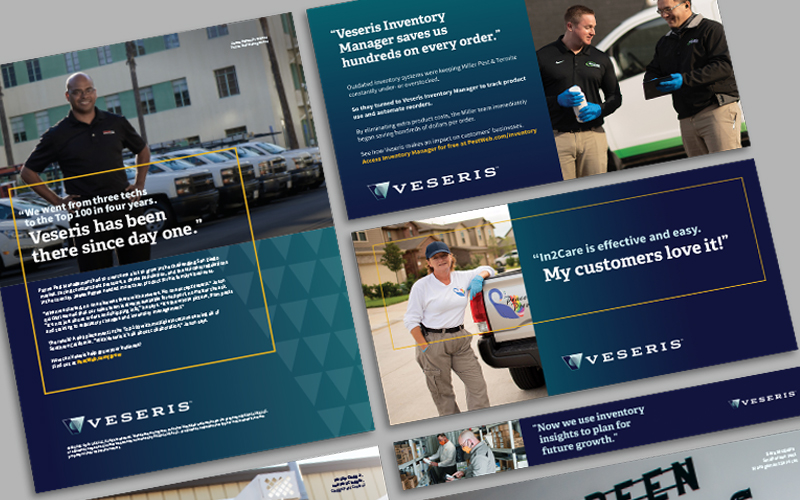 Results
The "Their Story" campaign successfully showcased the Veseris team's unique differentiators — building good will in the process. We reached over 28,500 pest control professionals monthly. Visitors spent an average of three minutes on our landing page. And reception was so positive, we extended the campaign a year longer than planned — to accommodate customers who wanted to share their own Veseris success stories.
Ready to get started?
Send us a message to see how FVM can help solve your B2B marketing challenges.