Showing how hard a brand is working for local citizens
The challenge
The third largest library system in the U.S. isn't contained in a single city or state. It's actually a network of 80+ institutions operated by Library Systems & Services. The company had saved dozens of its partner libraries from closure, but didn't have a way to tell its story and dispel skepticism in new municipalities. So they reached out to FVM to reframe their brand in a way that projected their optimism for the future of American libraries.
When we sat down with Library Systems & Services, the team's devotion to modernizing — and ultimately securing — libraries was apparent. But what wasn't clear was exactly what they did or how they did it.
While the company's website was professional, many of its most compelling results were buried beneath newer content. And while their long-form name Library Systems and Services acted as a simple statement of their focus, it had been initialized almost universally, and a little confusingly, as LSSI.
Our solution
We spoke to library directors and government officials who would have been forced to close their libraries if it weren't for the company's work. We also uncovered one case study in particular that told the story of a nearly bankrupted library system that was transformed into an award-winning community showpiece by Library Systems & Services.
These successes would embody the company's new brand position about enhancing and protecting America's libraries through private-public partnership.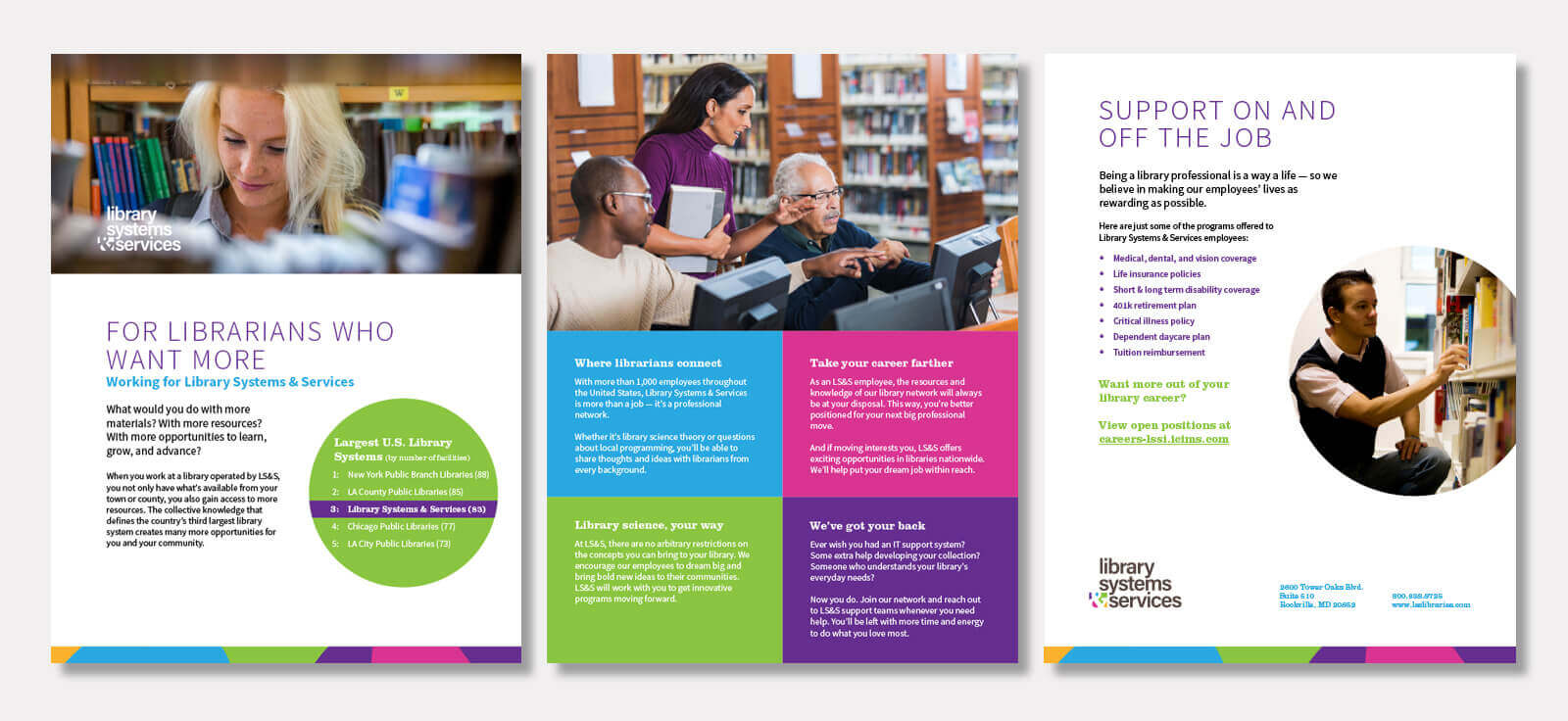 Results
LSSI became Library Systems & Services, providing clarity and the opportunity to leverage an iconic ampersand that embodied cooperation between the company, government officials, librarians, and the communities they serve.
The new brand exuded our client's optimistic, action-oriented, and generous spirit with bright, friendly colors, relatable photography of local library success, and messaging focused on partnership and results.
FVM created a unique style for communicating the work of LS&S by creating attention-grabbing icons and illustrations for locations, data, and core competencies of LS&S. We rolled everything out with a suite of collateral, booth graphics, advertisements, and a svelte microsite that would serve to represent the new Library Systems & Services while our client worked on important content for their final website.
Ready to get started?
Contact us to discuss how FVM can support your B2B marketing goals.