Tripling a gear drive manufacturer's brand impressions across six industries
Background
Founded in 1892, Philadelphia Gear and parent company Timken Power Systems are leaders in manufacturing and repairing mission-critical gear drives. Over the years, the businesses bolstered that reputation by advertising in print trade publications for the power and plant services industries.
But as Philadelphia Gear's capabilities expanded into new spaces, they needed to build their reputation there as well. In 2022, the company enlisted long-time partner FVM to refresh their advertising in the power and plant services industries — and grow their brand awareness into four new markets.
The challenge
While Philadelphia Gear had over 150 years of experience, their name was not as well known among key decision makers in the four industries where they were gaining new traction: hydroelectric, flood control, mining, and engineering procurement.
FVM took on the task of strategizing a bold introduction that captured Philadelphia Gear's storied legacy.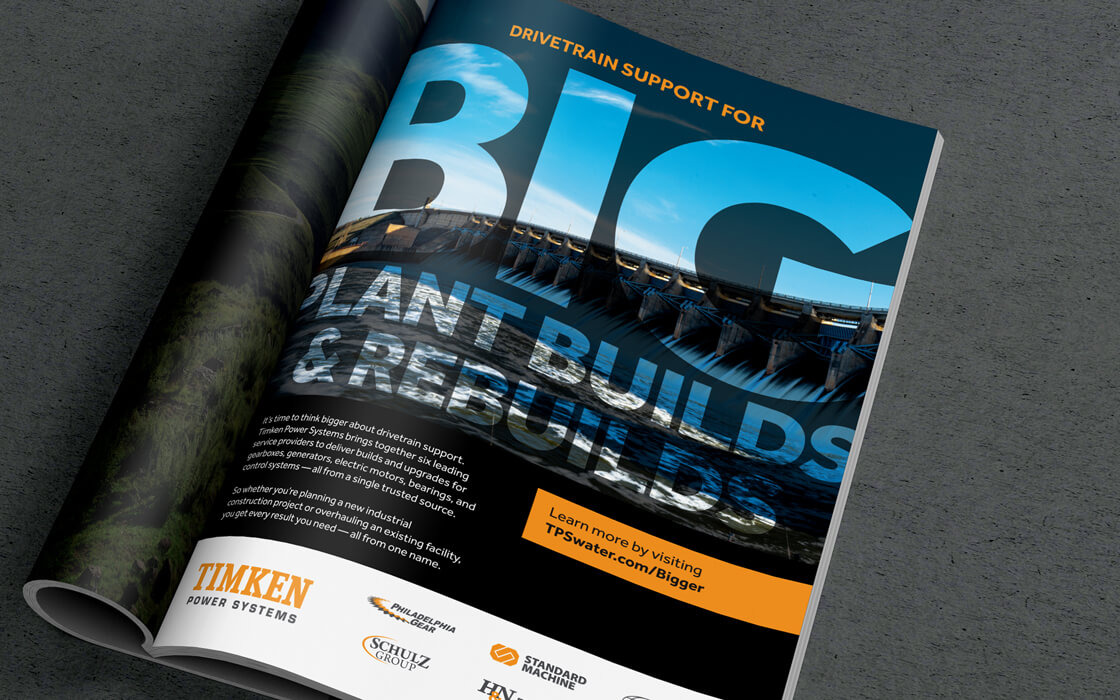 Our solution
The FVM team developed and negotiated a strategic media plan to bring Philadelphia Gear's advertising up to speed. We began by targeting key audiences: relevant decision makers in new and existing plant construction projects, local and municipal township supervisors, mining operations managers, and power plant owners and managers.
Our team struck a balance of traditional print ads, display banner ads, digital sponsorships, and even educational webinar sponsorships — creating tactics that spoke to individual industries, while upholding a core message of leadership and rugged reliability. We paired the tactics with Philadelphia Gear's first-ever strategic paid search campaign, which we'd launched in 2021, taking brand visibility to new heights.
In total, FVM delivered the following assets:
Six industry-tailored concepts (in four weeks' time)
Five campaign landing pages (see sample here)
Print ads
Display banner ads
Sponsored post features
HTML emails
Newsletter ads
Targeted Google search advertising campaigns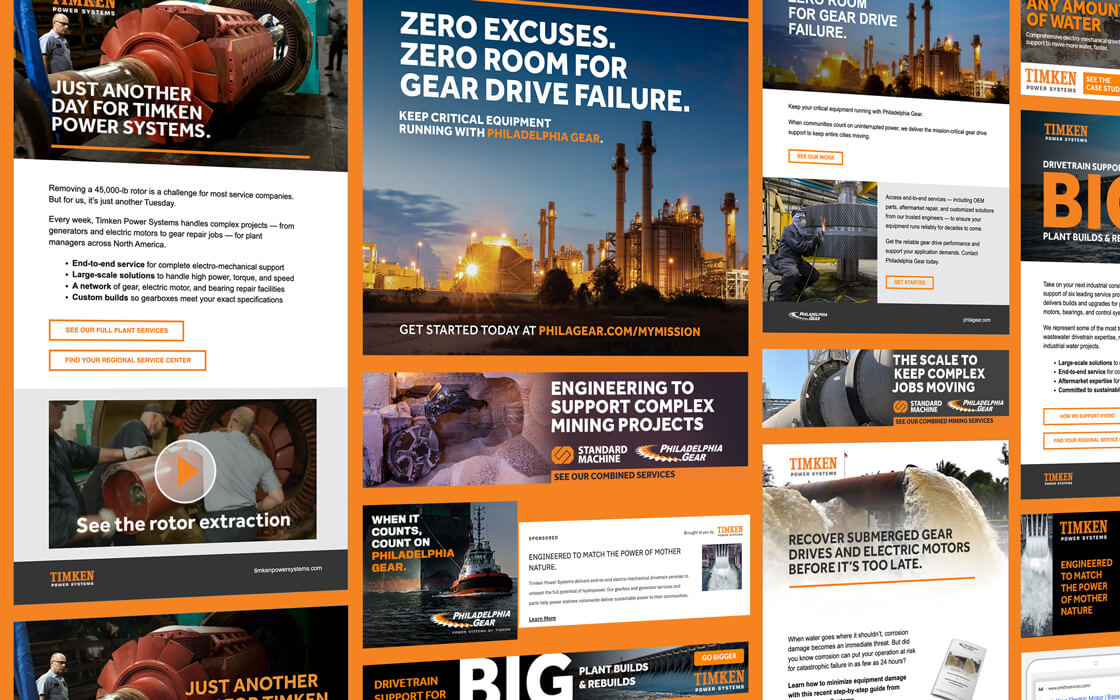 Results
Our 2022 campaigns delivered 3,841,135 total impressions across display, print, search, and email — over triple the amount from 2021.
The effort also earned 16,198 clicks and 7,506 new leads, marking a successful introduction into Philadelphia Gear's new markets.
By focusing more on digital advertising, our team was able to grow impressions while lowering costs, keeping the campaigns within budget. More importantly, we helped Philadelphia Gear take smart steps into the digital media space, positioning them for continued growth.
Ready to get started?
Contact us to discuss how FVM can support your B2B marketing goals.