West Chester University Foundation: Informing website design with a strategic messaging framework
Background
West Chester University Foundation (WCUF) is a 501(c)(3) non-profit that supports the mission of West Chester University by engaging donors and other partners to fund scholarships, resources, and programs that help students reach their full potential.
The challenge
Unlike brands that promote products and services, WCUF is tasked with convincing numerous groups to see the value in selflessness and philanthropy. To do that, they must concisely and consistently explain what they do, who they benefit, and how their audiences can get involved and see the results. Equally challenging to critical storytelling is understanding these audiences, each of which vary in their familiarity with the Foundation and its mission. Ultimately, every message needs to keep donor interaction and concerns in mind – especially on the WCUF website.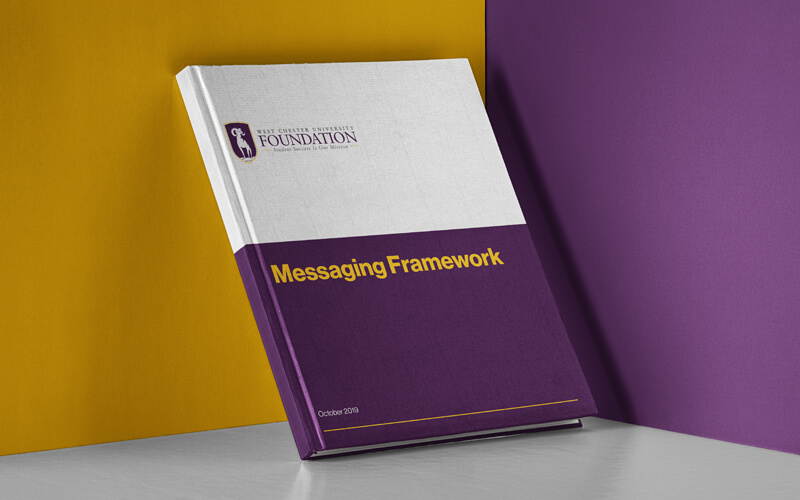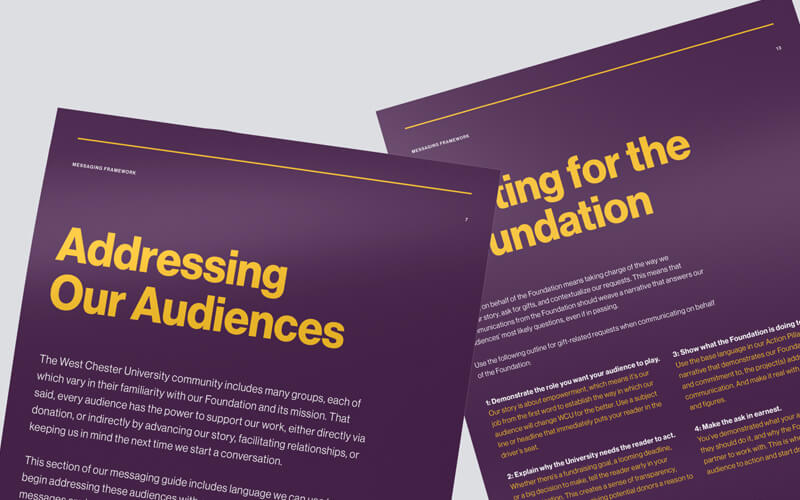 Our solution
In an impressive and collaborative effort that utilized deep discovery around the donor experience, FVM and WCUF worked closely to achieve a Messaging Framework that addresses all the following audiences:
• Alumni, friends, and family
• Corporations and organizations
• University faculty and Foundation employees
• University-affiliated entities
• Current students
This framework embraced subtle differences in how to approach each audience, address their questions, and give them reasons to believe in the mission of the University. Clear examples of writing for each audience were provided, as well as carefully nuanced personality and tone guidelines.
The next step was the WCUF website, where we confidently applied these fresh messaging insights to our well-informed knowledge of the donor experience. Beyond the strategic vision for the site, our web development team faced a unique challenge: to integrate an existing platform (Blackbaud) into the new design to accommodate donation functionality and the tracking of donor prospects. FVM was able to create a seamless connection to Blackbaud while delivering a new WordPress site featuring robust storytelling informed by our messaging framework. Because of our deliberate site planning process — including content hierarchies, copy input, wireframes, and site design – FVM delivered on time, on budget, and on message.

Results
The Foundation now has a centralized framework for their core story, including copy examples and tonal suggestions to shape engagement with donors and other partners. Borne from that hard work was a striking new website that exceeded expectations for the donor experience while maintaining a critical back-end component vital to donations and data capture.
Ready to get started?
Contact us to discuss how FVM can support your B2B marketing goals.