The sales enablement problem: arming sales with materials they actually want
The marketers' dilemma.
As marketers, we've all stared down a checklist of "sales content pieces" we're expected to create, arming our sales teams with the latest and greatest claims about our company's products and services.
They typically look something like this:
Corporate brochure
Product brochure
Product datasheet
Sales script
Case study
Whitepaper
Sales presentation
Creating each of these pieces to help sales sell… whatever it is they need to sell… isn't necessarily a bad thing. You've checked the boxes and completed your task — you did your job.
However, a new perspective on your sales collateral checklist could actually serve as a major turning point for your sales and marketing organizations alike. Instead of seeing your list as items you must create, think hard about why you're creating each of these items, what each is meant to achieve, and how exactly it's going to help each salesperson achieve their individual sales goals.
Rethinking your approach: a quick example
At FVM, we tried this new approach with a client whose marketing department was given a list very similar to the one above. Their sales organization had recently announced their updated client portal — a combination of an interactive purchasing history report, asset tracker, and other investment tools.
The bar was set for sales: Get more existing customers to start using the new portal. Their marketing team was asked to create a mix of tactics to support the sales team: a product brochure, a product datasheet, and a sales presentation. In turn, the marketing team asked FVM to scope our time to create each of those pieces.
We thought about it… then stopped. We began asking questions: Do salespeople really need another brochure to explain the merits of a purchasing history report? Is that going convince more customers to try this stuff? Didn't we already create a similar brochure a few years back? Are salespeople using that and finding it helpful?
These simple questions led to an exercise that changed the sales enablement conversation for the better. FVM took on a research project to uncover what sales actually needed to overcome barriers and get more people to try the tools.
The answers weren't then — and usually aren't — "I could use another brochure." Often the truth goes deeper. Honest salespeople will share insights like, "It's a waste of time to focus on selling an online client portal, since I only get a commission when I sell a new service to customers." Or, "I don't have a good feel for how this tool works, so I shy away from mentioning it." That's why the best way to help a sales organization meet its objectives it to get into the inner workings, put yourself in the salespeople's shoes, and ask the right questions.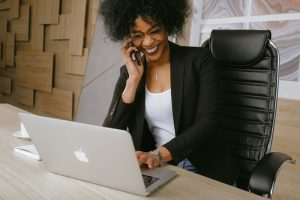 The four steps to better sales enablement
Before you start cranking out another piece that will sit in SharePoint or Salesforce for all eternity, never to be clicked by a salesperson, we recommend pausing and considering these steps.
1. Listen carefully with an open mind.
Set aside time to take a closer look, asking deeper questions: How are your top-performing salespeople using materials to help close sales? When and where do they bring those pieces in to the conversation? Which of your current materials are working.
For example, we once identified a clients' brochure that marketing viewed as outdated — even though top salespeople still leaned on it heavily. As it turned out, the sales team found one particular spread with a step-by-step walkthrough of the client portal login especially helpful. Meanwhile, the newer, flashier pieces preferred by marketing just weren't as practical.
Also, ask what materials salespeople wish they had while talking with customers. Consider nontraditional pieces like video, social campaigns, and virtual events — whatever it takes to prepare, inspire, and arm sales team members to have successful conversations with their customers.
These sessions can be as simple as a series of one-on-one phone calls, or as complex as an online focus group. Whatever level you need to connect with the sales team, meet them with your ears open, pen in hand.
2. Turn top performers into internal sales evangelists.
Create a venue to capture top performers' tips and tricks, bottle them, and share them with the entire sales organization. Highlight your top salespeople as aspirational examples, equipping them to show others the way through engaging and informative content for your internal sales team.
This content doesn't have to be fancy. Ask top performers to record a short video explaining how they typically walk a customer through a particular program. Free browser extensions like Screencastify make it easy to screen capture videos and voice narration.
Or ask top performers to share a series of emails they send to engage customers. Those simple practices, such as setting up a client with a test account and emailing their login info prior to a conversation, can be the difference between a customer who buys in, and one who ignores attempts to connect.
3. Ensure the broader organization's objectives align with sales goals.
If salespeople only have goals for acquiring new customers, they're not going to spend their time getting existing customers to try new programs. No matter what the CEO announces as the company's goals for the year, sales isn't selling it unless it is a sales goal.
4. Get the competitive juices flowing.
Work with your sales organization to set up a weekly leaderboard of top performers, highlighting who's in the lead for meeting a particular sales goal. Offer a fun prize to the salesperson who sells the most in a particular category.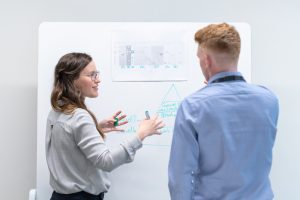 Here's the thing. After all of this research and prep work, you may still end up creating a product brochure, a product sell sheet, and a sales presentation deck. It's perfectly fine if you discover these three items are exactly what sales needs to meet their outlined objectives.
But chances are, a conversation with a salesperson will lead you to a new content idea. Or a selling point you didn't think was a big deal to customers, but is actually game changer in sales conversations, even working its way into marketing messaging. Or a way to engage more salespeople and get buy-in on what the greater organization is trying a achieve. These are all big wins!
And if you do deliver new and different sales enablement tools that get the job done, it's a win all around. The connections you've made with salespeople — who now understand you're there to listen and help, not just shove piles of brochures at them — will be invaluable.
It's a two-way street. When sales sees you coming through and delivering for them as a marketer, they'll want to continue sharing their truly unique customer insights, and the cycle will continue. And that's not just doing your job — it's up-leveling your marketing.