Driving double-digit YOY sales gains with a simple pen-and-paper approach
Background
Every fall, golf course superintendents and lawn care operators stock up on fungicides, herbicides and insecticides for the following year through Early Order Programs (EOPs) from specialty chemical suppliers like FMC.
This is the largest opportunity of the year for suppliers to move product, which is why they offer the largest discounts, rebates, and other incentives during EOP. With numerous programs vying for the greatest share of mind and wallet from a limited number of potential customers, suppliers must stand out while communicating sometimes intricate program pricing details.
The challenge
To tackle often-overwhelming EOP offers, FMC decided its 2022 pricing strategy would be simple — "Simply the best deals and savings" with less focus on tiers of evolving rewards seen in previous years and from competitor programs.
But believably communicating a simplicity message across tactics that include digital, print, web, sales collateral, social advertising, and partner promotions is inherently complicated. And getting any message to stand out for buyers making stressful buying decisions in a time-limited and crowded sales environment isn't easy.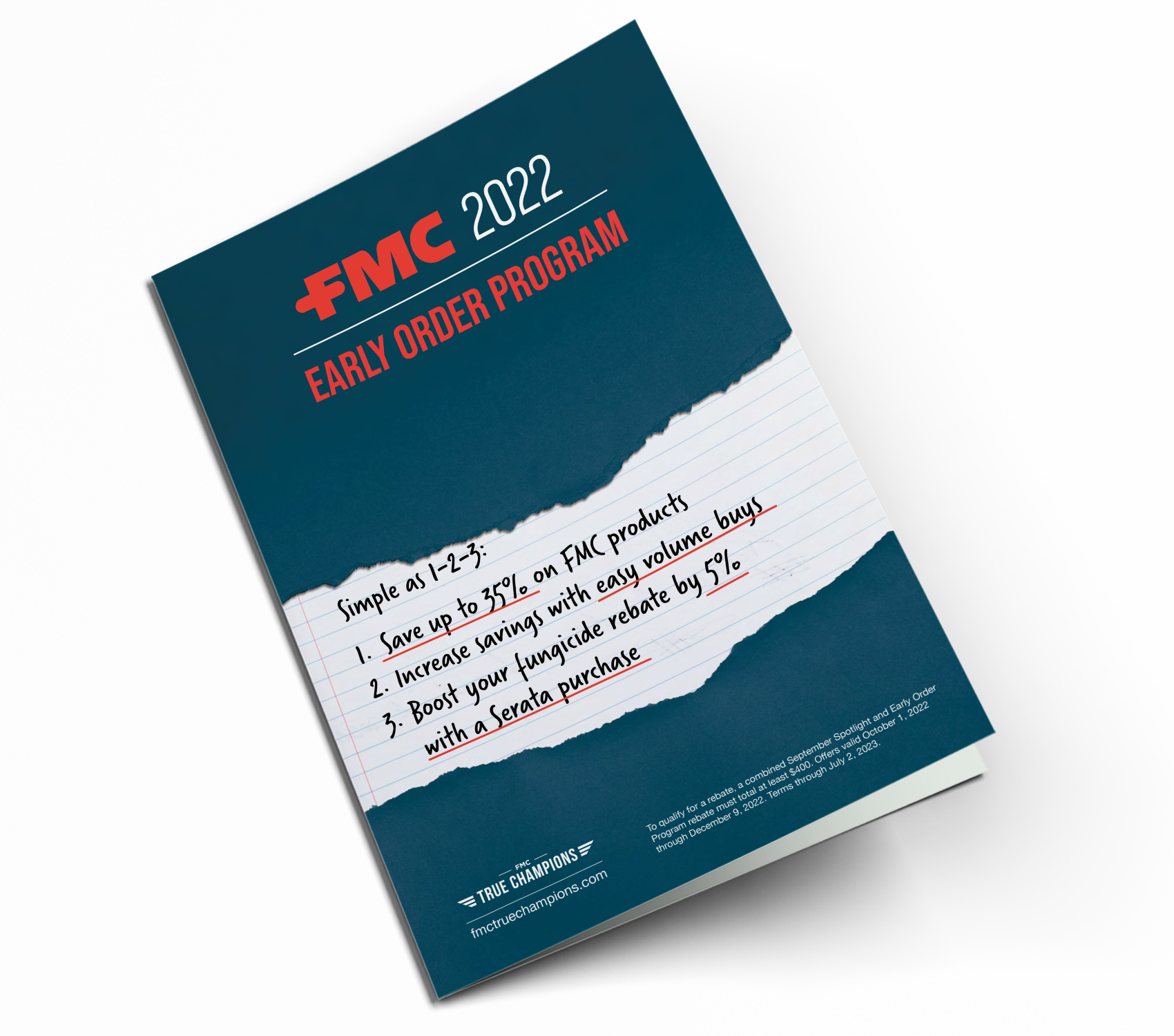 Our solution
FVM reviewed dozens of past FMC and competitor programs to find ownable visual and messaging space. As with many B2B marketing promotions, competitors overwhelmingly leaned into industry-focused beauty shots that communicated little about the supplier… and did even less to differentiate their offers.
Putting the art and science of promotional communications to work, FVM instead pursued approaches that were as transparent as possible to establish clear, differentiated value and memorable creative style.
We ultimately delivered "FMC's Super Simple EOP," a concept that proudly owned FMC's straightforward savings with a handwritten, notepad inspired look and no-frills copy. It stood apart from overly complicated competitor programs by communicating an offer so simple it could fit on a salesperson's scratch paper. This was a program that uniquely respected customers' time and attention, and it showed FMC's commitment to helping their customers above all else.
FVM executed a comprehensive set of over 200 program tactics:
Campaign landing page
Streamlined 4-page brochure and dozens of brochure variants across segments and partner programs
Print advertising in major trade publications
Digital banner ads and social media that evolved throughout the lifespan of the promotion's phases and deadlines
Promotional and reminder email campaigns
Internal program slides and external sales presentation support
An "EOP in 60 seconds" video marketing and sales tool
Industry publication slip sheets, outserts, and more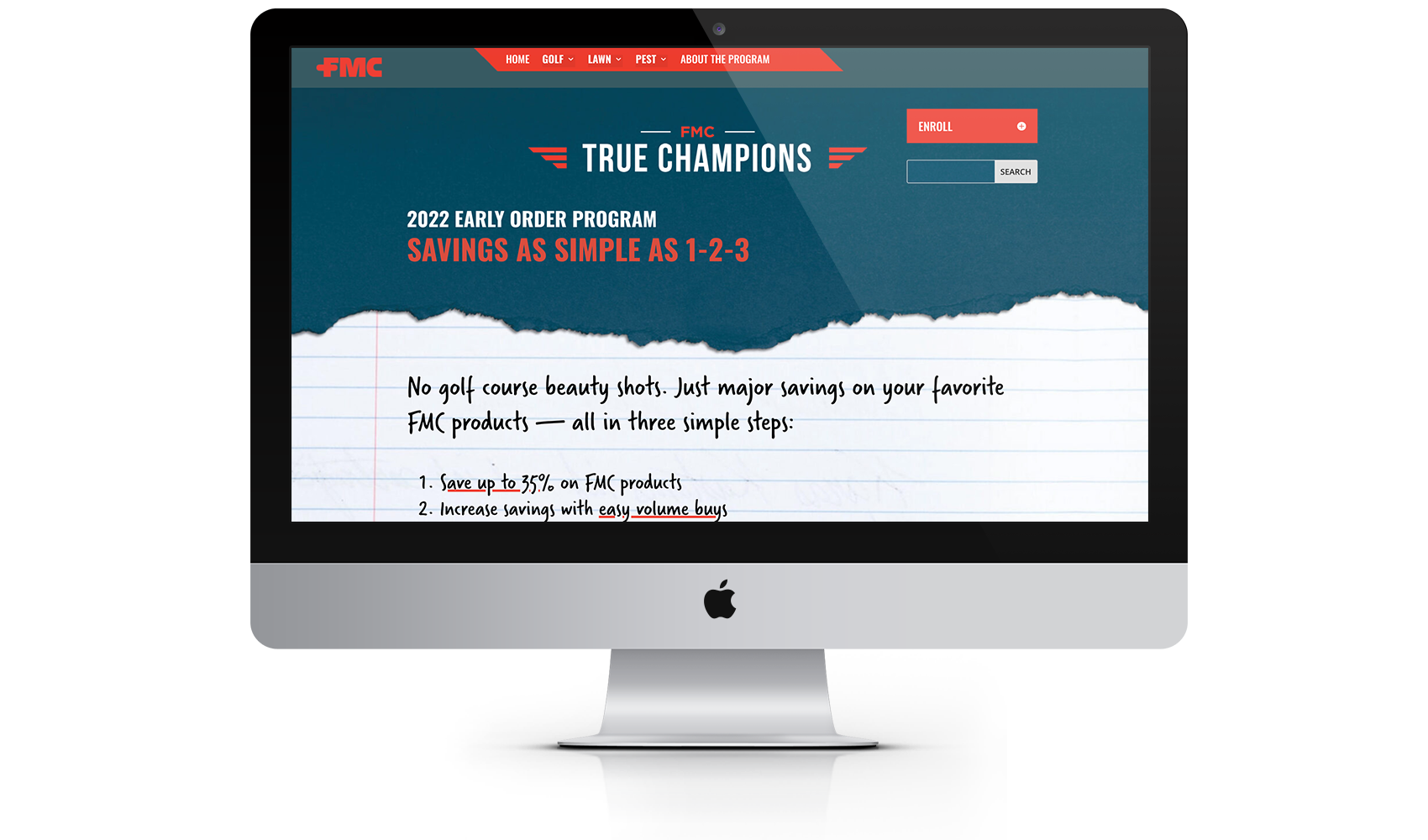 Results
The 2022 Super Simple EOP yielded the highest gross sales of any EOP for FMC. The golf segment saw a double-digit percentage increase from the previous year.
Additionally, FMC's sales leadership appreciated the simple marketing approach for the program, specifically mentioning that it helped them focus on selling by removing the need to explain an overly complicated program.
Ultimately, FMC's 2022 EOP was a win-win for FMC and customers who were able to stock up — without the need for a graphing calculator.
Ready to get started?
Contact us to discuss how FVM can support your B2B marketing goals.