AIVA presents FVM with 3 Davey Awards
Great news on the awards front! The Academy of Interactive and Visual Arts (AIVA) has presented FVM with three 2021 Davey Awards: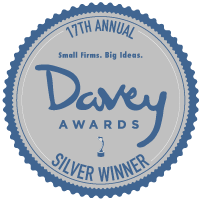 The Davey Awards, the largest and most prestigious awards competition exclusively for small agencies, recognizes the "Davids" of creativity. Just as David defeated Goliath with a big idea and a little rock – so small agencies derive their strength from big ideas, rather than stratospheric budgets.
We're humbled by the recognition from AIVA, an invitation-only body consisting of top-tier professionals from acclaimed media, advertising, and marketing firms. THANK YOU to AIVA, and to our amazing clients who trust us to deliver work that's not only beautiful to look at, but hits the mark in terms of meeting specific marketing and business objectives.
Congrats, Team FVM!