Growing comarketing revenue 20% by reinventing a brochure
Background
Veseris is the industry leader in North American structural pest control distribution, and Partner Advantage is its annual comarketing program. By allowing supplier partners to promote their products via Veseris storefronts, podcasts, digital tools, and other tactics, Partner Advantage serves as a key profit center — while also strengthening those supplier partner relationships.
The challenge
With 2020's lockdowns driving meetings online, Veseris needed to upgrade its Partner Advantage brochures from 16-page leave-behinds to a more shareable format. In addition to being fully digital, the new brochures needed to better sell each program, helping reps to meet their sales goals and assuring supplier partners that Veseris could meet their needs.
Our solution
We leveraged the newly designed Veseris website to create a password-protected page featuring easier navigation, interactive media, and country-specific customization. Upon logging in, supplier partners could quickly browse each program option and see how they worked — via embedded animations, podcast episodes, and other examples.
While previous brochures required different versions for American and Canadian audiences, the digital format allowed simple customization without the limitations of print layouts. Along with reducing the time and headaches typically tied to print assets, the digital brochure completely eliminated printing costs.
In all, FVM delivered the following assets:
A redesigned brochure in a more engaging digital format
A customizable template for additional audiences and future programs
Ideas for new comarketing programs adding value for supplier partners and Veseris

Results
In spite of pandemic-driven uncertainties for the company and its supplier partners, Veseris surpassed its benchmark for Partner Advantage program commitments by 20%. And with a more cost effective, streamlined brochure, they were equipped for continued growth for years to come.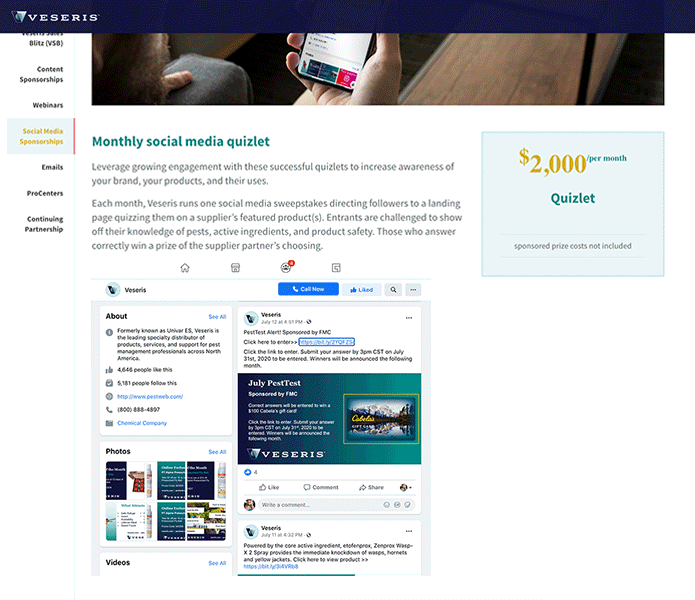 Ready to get started?
Contact us to discuss how FVM can support your B2B marketing goals.