Best of 2021: FVM's digital marketing highlights
As the year comes to a close, we're taking a look back at our top accomplishments from the past 12 months.
While we regularly review our campaigns' performance, sometimes it's easy to overlook individual past projects in the hustle and bustle of the holidays.
This year, we took the time to revisit this year's projects as a team. We found ourselves making comments like, "Ah yes, that project was so fun to work on!" and "Wow, that was 10 months ago already?!" and "Ooh, that one almost killed me!" (kidding on that last one — mostly.)
Below, we've compiled the results of our poll. We're proud to share with you our best FVM digital marketing projects of 2021, as selected by our team.
Videos
Entegra brand launch video
We wrote, designed, and animated this video in September to inform and inspire Entegra employees and generate excitement about the new company brand.
What we love about it
"From a digital aspect, the Entegra launch was overall incredible. This video particularly was just a ton of fun to work on, with a stellar storyboard and copywriting." – Aaron Baksa, senior art director
Timken Power Systems overview video
In April, we showcased Timken's services by creating a video storyboard and supervising 3D graphics development with our animation partner.
What we love about it
"The 3D graphics and animation were a first for FVM, and the detail is incredible." – Christiana Del Vecchio, art director
This video also won two 2021 Davey Awards from the Academy of Interactive and Visual Arts (AIVA) for best use of graphics and best use of animation.
Banner ads
FVM remarketing "box" banner ads
We wrote, designed, and animated these banner ads in January to be served to previous visitors of ThinkFVM.com, reminding them of our storied history in B2B marketing.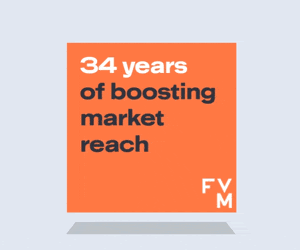 What we love about it
"I still can't get over how beautiful these animations are. Our designers really raised the bar for banner ads! It's such a fun take on our logo, brought to life in 3D." – Alexandra Chapin, account supervisor
Roman Catholic High School fall campaign emails and banner ads
We wrote, designed, and animated these banner ads and emails to increase awareness and registrations for Roman's Fall Open House event in September.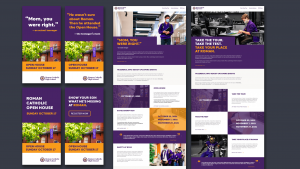 What we love about it
"We were able to evolve the sharp style we had previously created with some direct response focused digital tactics to drive traffic, open house visits, and scholarship test registrations." – Jon Tran, creative director
This email campaign also set an open-rate record. While our email partner Audacy's average open rate ranges from 6 to 9%, our three emails had the highest open rates the Audacy team has ever seen: 19.4%, 22.6%, and 22.6%.
Branding
Pepper Bio graphic ID and microsite
We developed corporate messaging and a graphic identity for Pepper Bio, a biotech startup in the drug development space, in August, and brought it to life with a simple microsite in September.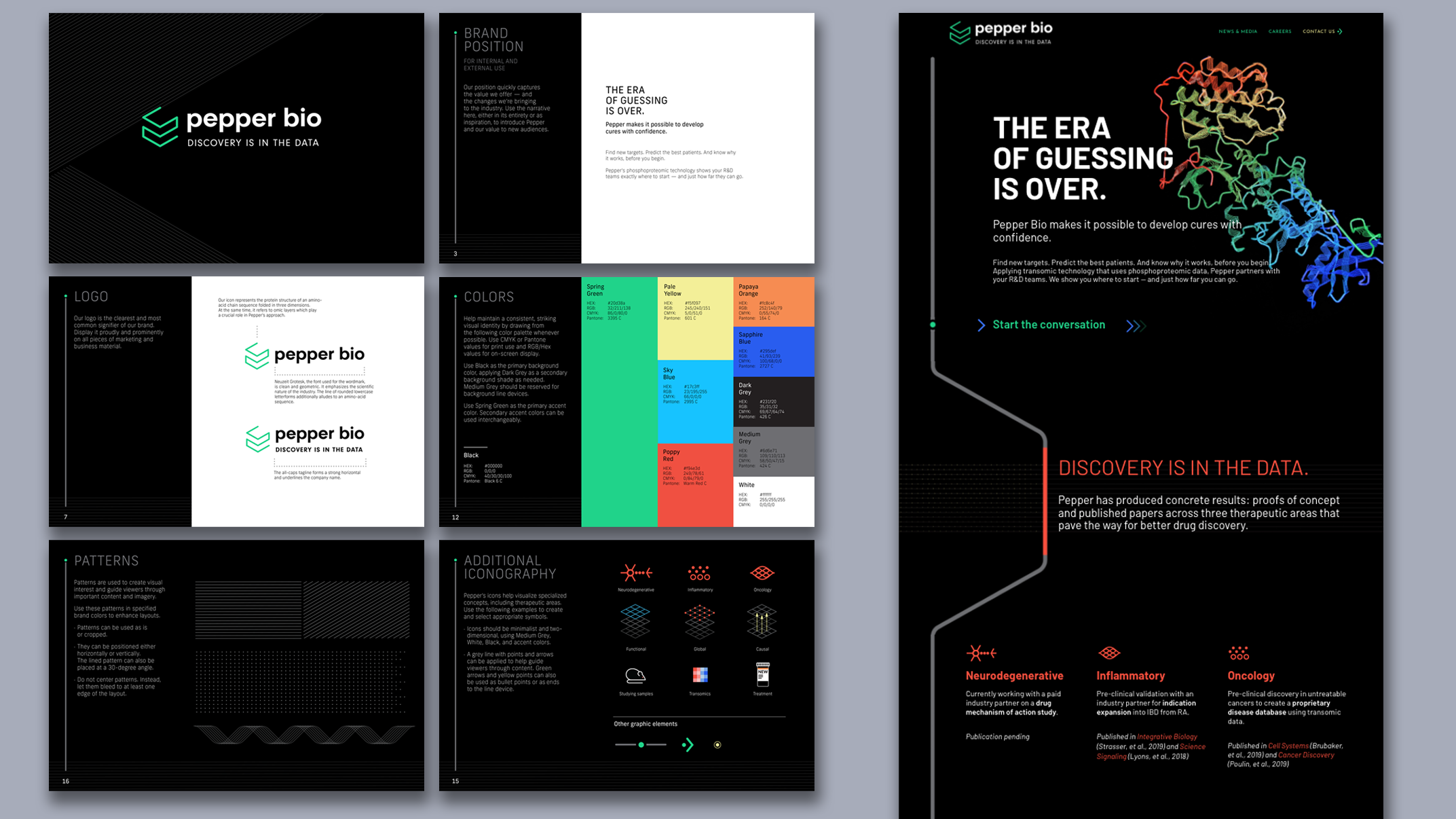 What we love about it
"The Pepper team had a very clear vision for their visual brand identity, so our 'lanes' were well-defined. The space between those defined lanes was very high-contrast and high-impact — a fun place for our design team to be. We just love the effect of the white and multicolor elements on black. And the layer-based logo paired with primary imagery focused on particular proteins is authentic and true to Pepper's unique approach in their market." – Karen Murphy, VP of client services
Content project
Entegra Content Engagement Center
We created this online content center with Nation's Restaurant News in October to inform and educate restaurant owners of Entegra's ability to help solve supply chain issues and maximize restaurant profits.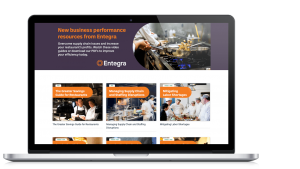 What we love about it
"The Content Engagement Center was a comprehensive project that involved FVM design, copywriting, and content creation. The center itself and the ads we created to drive to it were rewarding to work on. Not only will the center help raise Entegra's profile as a top procurement provider and generate new connections in the restaurant space, it will serve as a truly helpful resource for Nation's Restaurant News subscribers." – Nicole Paynter, account executive
We hope you've enjoyed exploring our top picks of 2021. Our team looks forward to creating more memorable projects in the new year.